To honor all my avid readers that got me this far, I wanted to have a bigger post than ever before! In this celebratory 100th post, I have as much as IG madness that I could cobble together! First up: 49th Alascadian Regiment style of batch painting!
This is not a Golden Daemon quality job of painting... You will not find highlights, blending, or otherwise fancy shading in this tutorial. It is purely designed to be a quick and table-quality method of putting squads of infantry on the table quickly.
Ok, let's get started. PLEASE NOTE: This tutorial only pictures one model for the ease of creating the tutorial. This tutorial is meant to show you how to "batch paint" a single color at a time. This helps speed up the process of speed painting, not to mention wasting less paint, but at the cost of reduced quality of the paintjob on a single miniature.
STEP 1: Prime your miniatures.
There are many methods to doing this, but for Alascadians the only reccommendation I will make is that you use a lighter-shade primer, such as gray or white. Make sure you take the time beforehand to trim mold lines and fill gaps.
STEP 2: The Basecoat.
I use a cheap wal-mart brand of gray paint as my base coat, due to the amount of it you will likely be using. My preferred brands are Folk-Art or Ceramcoat, both widely available and quite cheap. In order to get the best coverage, it is best to add a minute amount of water to the paint in your palette before painting it on. This may take two coats, depending on the paint you use. LET THIS COAT COMPLETELY DRY BEFORE CONTINUING ON! I generally do this step the night before I plan the painting session, as it is fairly quick to do but takes a long drying time. Completely cover the model, head to toe, in this basecoat.
STEP 3: The Flesh
Use your favorite or preferred methods to do the fleshy-bits first. I do this to allow my mind to see that there is indeed a trooper in there somewhere, and make me feel like I have accomplished more than I really have. This motivates me to keep painting, to give this guy the uniform he deserves!
STEP 4: Tin Bitz
The armor has to have a base layer in order for the stippling we are going to do later to have a good effect. So paint all the carapace, helmet, and gun body sections in Tin Bitz, making sure to get all the edges to the armor. I also cut a step and do the canteen here, as well! Don't go over the flaps though, because those will be brown later on.
STEP 5: Black Parts
You will start to see your trooper emerging. Apply black to all the part of the weapon that have not been colored yet: the barrel, stock, magazine, etc. etc., as well as the cuffs around the boots. Be sure to also get the bayonet if it is still in its scabbard, or if it is attached to the weapon. I usually paint the grenades black as well, for the sake of speed.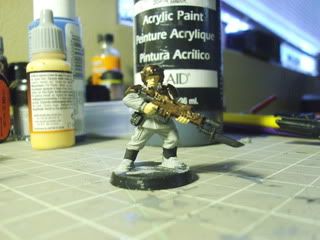 STEP 6: Brown Parts
This color will be the leather straps, boots, and pouches that adorn the trooper's uniform. I start with the boots, working my way up the model to ensure I don't miss anything important. The belt is not very well defined around the waist, so you may have to use a little freehand skill and paint a straight line. Also be sure you get the straps that hold the canteen on.
STEP 7: Stipple on the Mithril Silver
This is one of the most difficult steps to get to look right. It takes a certain amount of practice to do quickly, and not overdo the silver. Use a short-bristled brush, or cut the bristles short on an old brush, and dip it in your silver. Paint off some of the excess onto a napkin or sheet of paper, as directly applying the silver tends to be too much. Using a stabbing/jabbing motion, carefully paint on the silver over the Tin Bitz parts of your model, as well as the black parts that will represent metal (such as the bayonet or grenades, not the boot cuffs though!)
After doing so, you may need to use a better brush and go back to give a rough highlight to some pieces with the silver, especially the helmet. Make sure you get the canteen, too! You finished stippling effect should look something close to this: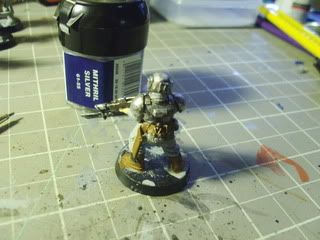 STEP 8: Black Wash
This step is pretty easy, but you have to let it dry for a considerable amount of time. Using Badab Black wash, cover the entire model from head to toe. If you feel so inclined, you can use separate washes for the fleshy bits, but I don't usually take the time to do both washes. Speed is the key, here. When you finish, let it dry for at least a few hours before trying to put on any sealants or clear-coats. After you do, you should have a model that looks like this:
And you're done! Working in batches like this, one color at a time, can give you a great assembly-line approach to painting horde armies. Beware though, because this leads very quickly to painting boredom! I usually pop a movie in the background, to distract your mind from the monotony of the work.
PART 2 OF THE MEGAPOST:
The Veteran Squad Complete! With Pictures!
That's right, I finally cranked out that veteran squad I had been promising. I have been distracted a lot lately, with making new terrain and getting my wife to decide on a color for her own fledgling Space Marine army, but they are finally done! This brings up my current painting points for the month to 46, a new personal record! Here is the picture of the finished squad:

And of the Veteran Sergeant that leads them: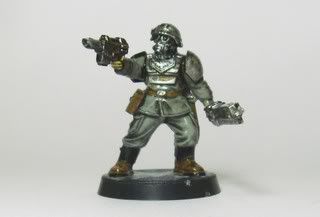 PART 3 OF THE MEGAPOST:
Last but not Least...
I did a kit-bash of a "Counts-as" Castellan Creed for use with my Alascadians. He is not complete yet, as I have more work to be done to his mantle, but this is a special sneak-peek I decided to throw in!
That is all I think I can possibly fit into one post! Thanks for all the support and comments, as this blog continues to grow! In no time, we might be celebrating the 500th post!
So until next time...
--FP135